Date numero dos with Sean (aka Twitch) was refreshingly low on the twitchometer.

He picked me up at my house this time and the plan was to go to Color Me Mine, which is... let's just say, not typically a date that a guy suggests.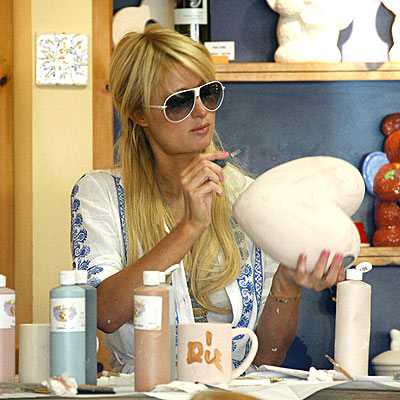 (See? Even Paris does it.) But I was all for it, seeing as I am embarrassingly crafty and all. We looked up online where the closest location was and headed over. Sean seemed tremendously more at ease, and I can't even specifically remember any super noticable twitching. When we got to the Town Center, we wandered around on a goose-chase for the pottery studio, which was on all the maps but was nowhere to be found. We realized eventually that where it was supposed to be located was now just a vacant spot, so we settled on a movie.

He suggested Juno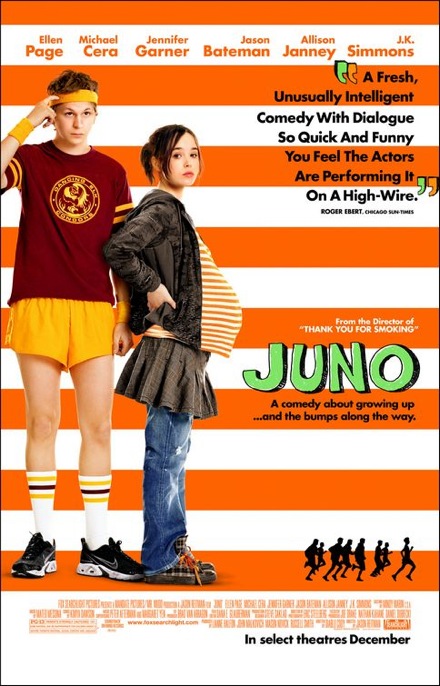 (Rainn Wilson of The Office is officially the funniest convenience store clerk that's ever existed... "What the prognosis, Fertile Myrtle?") which I have really been wanting to see, and bought some tickets (or he did at least), and went inside. Upon finding the theater, we sat down but were totally confused by the fact that the movie was definitely already started, and we were a good 10 minutes early. No more than 30 seconds went by before the credits were rolling. We'd both left our cellphones at home and weren't wearing watches so we asked someone next to us. Yep.... we were an hour early.

I myself didn't think it was a big deal, other than being really funny, while he was completely humiliated that he'd somehow overshot the time by an hour, and apologized prefusely. I reassured him, told him it was no big deal, and he made me promise not to go tell any of my friends what a big "doofus" he is..... oops. :) We walked over to the rock'n'roll sushi restaurant/bar next door for a few drinks while we waited.

Once he got over his embarrassment, we had another great conversation... he is totally positive, has nothing but good things to say about his family (which he casually mentioned he has told about me), is more than willing to laugh at himself when the moment's right (and agreed that there is something about his personality
that is very reminiscent of Jack Black, though I can't put my finger on it, and even volunteered a "Jay Leno" description of his prominent chin [I wasn't going to say anything, because really, I'm not one to talk])... all that, plus he made friends with the bartender, and picked up our tab automatically. Nothing makes my eyes turn to hearts faster than a guy who makes friends with everyone around, and then insists on paying! Double swoon.

It was finally (for reals) time for the movie, and we went over and watched it, a little tipsy, holding hands and laughing hysterically together, which is always a good way to bond with someone. (Its a REALLY good movie, btw. You all need to go see it if you haven't already.) Then he drove me home, kissed me again, and said he'd call me tomorrow.

So everything about him (pretty much) is right.... why is it that I just don't feel all that excited about him?